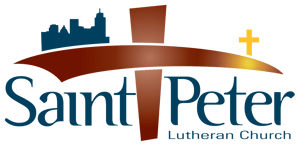 The Saints Are Singing
Matthew 5:1-12, All Saints Day
What is your favorite hymn, song, or spiritual song? (One may wish to solicit answers from the congregation including the children and youth.) How about "A Mighty Fortress Is Our God" or "The Old Rugged Cross"? What about "Jesus Loves Me, This I Know" or "What a Friend We Have in Jesus"? If we had time to ask everyone here, we would probably come up with a variety of favorites. Some songs we love because of their words. Some songs we love because of the catchy tune we cannot get out of our head. Some songs we love because they have a special meaning in our lives—a song sung at our wedding or a song sung at the funeral of a loved one. Hymnody, of course, has a rich history in the church at large and in our Lutheran church as well.
Today the saints in heaven are singing us a song. This song does not have a tune, but it does have a powerful message for us—a message of peace, of God with us, of grace, and of life—a song in four stanzas. Let's listen to the Word of God proclaimed and learn and rejoice in "The Song of the Saints."
In the first stanza the saints tell us that by the power and love of our God we can have shalom, shalom. By the power and love of God alone we can have peace, peace, or perfect peace. What is perfect peace? The saints, who are experiencing this perfect peace in heaven, would be the first to tell us that it is nothing we can totally experience during our earthly life because of our sinful condition. Perfect peace comes when we trust fully in the power and majesty of our God, when we are wholeheartedly and totally committed to him. Do we have it? What gets in the way of this perfect peace? Family struggles, financial woes, illness, the devil tempting us to put our trust in something other than God. Oh, to have the perfect peace we experience at the Lord's Supper all the time! To have the perfect peace of absolution, sins forgiven, all the time! To have the perfect peace of the Word of God directing our lives all the time! As God's people, we strive for it each day. The saints of God have it. We know it at times here on earth, and by the grace of God we will know it completely in paradise.
In stanza 2 the saints remind us that God is with us on our path. He met us and came to us, through the waters of Holy Baptism. In Jn 15:16 Jesus gives us this reminder: "You did not choose me, but I chose you and appointed you to go and bear fruit—fruit that will last." Rom 5:8 reminds us, "But God demonstrates his own love for us in this: While we were still sinners, Christ died for us." And so we go to meet others where they are. We share the Good News whenever and wherever people have need of it. There's the story of Pastor Bill Wrede, who went to meet the people where they were after the 9/11 attacks in New York. He prayed with the rescue teams, shared words of comfort with the hurting and words of hope with those who had lost loved ones. What would Jesus have done? Exactly what this pastor did. He went to where the people were and offered words of comfort and forgiveness. We have been saved from our sin, raised from the muck and the mire by the blood of Jesus. God is indeed with us! In response to God always being with us, we go where needs are and proclaim the love and forgiveness of Jesus Christ.
In the third stanza the saints remind us that the great message of the Reformation is true—our salvation is solely a gift from God: Grace-God's riches at Christ's expense. They went to heaven, not because of what they did, but because of what Jesus Christ did for them. And whatever good they were allowed to accomplish for the Kingdom, even that was given to them by God. "For we are God's workmanship, created in Christ Jesus to do good works, which God prepared in advance for us to do" (Eph 2:10). It is our joy in this world to do the work of the Kingdom. We have been given the gift of eternal life; and we have also been given the fruit to bear in witness to our Savior in heaven. We pray that God will lead us by grace to use our time, talents, and treasures to do the blessed work of the Kingdom with constant joy in our hearts. (Here the congregation may sing the hymn "Take My Life, O Lord, Renew" [LW 404].)
In the last stanza the saints remind us with great joy that we will not die, but we will live forever. The saints who have gone before us rejoice and sing around the throne of the Lamb. That is our future as well. It took a miracle to overcome death. That miracle was the resurrection of God's Son, Jesus Christ, our Lord. Jesus says in Jn 14:19, "Before long, the world will not see me anymore, but you will see me. Because I live, you also will live." What Good News! What joy fills our hearts! Because of Jesus, death is not the end but the beginning of paradise. All the saints together say, "Come and see the glory of your God."
On this All Saints' Day, may God's peace, presence, grace, and promise of eternal life in Christ be yours. The victory song of the saints is our song too, and we look forward to joining them and our Lord when God's mercy beckons us to our eternal home. Until then, to Christ be all glory and honor. Amen.